Aquaculture supplies related categories - Aquaculture titanium heaters (series)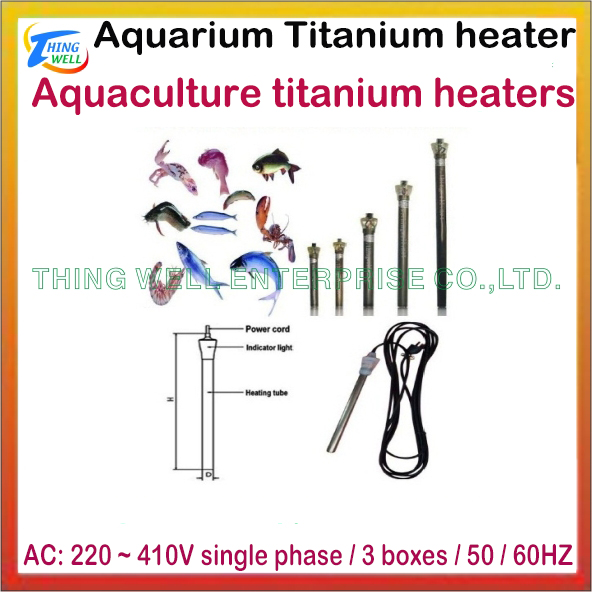 Model Name.:Aquaculture titanium heaters (series)
Model No.:Aquarium titanium heater, Diving titanium heater, Sea fish pond heater, Titanium heater, Ornamental fish tank heater(series)
Application: Small seawater fish ponds, Small fish ponds, Small shrimp ponds, Aquariums, pharmaceuticals, Food plants and other industries heating use, Titanium heater good corrosion resistance, Long service life.
Patent Region:

not
Product Feature:
Aquaculture Titanium Heaters(series)
Description:
1)Pure titanium of electric heater was made by industry of pure titanium, special suitable for seafood, fishing pond, cultivate, pharmaceutical industry, food industry and other industries so on for heating use, pure titanium with high ability of anti-corrosion, long life operation.
2)Titanium tube heater used in Double-sealed waterproof design.
Power :0.3 ~ 3 KW / Single-phase / 3-phase.
AC:110/220/380/415/440V/ 50/60HZ.
Remark:
If you need product catalogues, please feel free to send inquiries to the following email address.(export@thingwell.net /huang5468@thingwell.net / assistant@thingwell.net)
QuickMenu
1F,No.14,Ln.661,Sec.5,Chungsin Rd.,Sanchong Dist.,New Taipei City 241, Taiwan.

TEL:886-2-2995-2954 FAX:886-2-2995-7615